Good evening Agents! Today starts the great week of battles for SWAT. Today, was our training event/intel gathering for the infamous Brotherhood Imperium. Never heard of them? No worries, my friend, I will explain very soon. For now, let's see how this event went.
MAX: 19
ROOM ONE: ICEBERG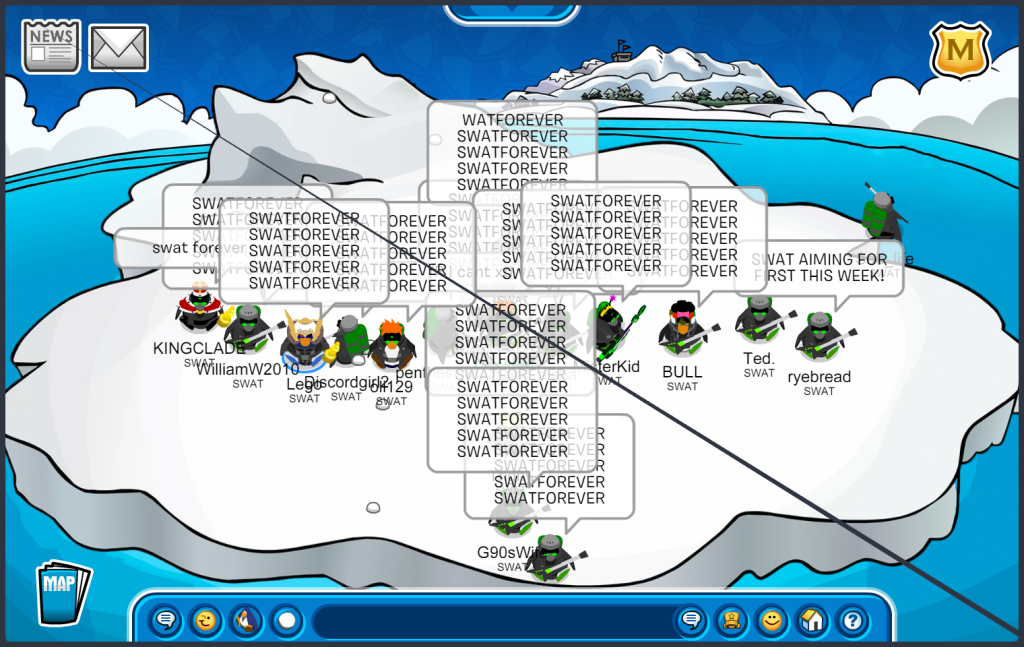 ROOM TWO: COVE
We started our intel gathering by chillin' at the Iceberg, where we see two Dark Viking troops supposedly playing hide and seek. Very interesting, is it not? We asked Vikings commander, krosive what he had to say on the matter:
rye: Were you guys playing hide and seek just before?
krosive: I have to go *leaves the voice channel*
This information can hopefully be of use to us in the future. Only time will tell. We also gathered from former SWAT leader LEGOMAN, that you can supposedly play Club Penguin Army Battleground on VR Quest 2, and found out this info from our newfound Intel Agent, PenTheFish. Will CPAB be expanding its game platforms? Maybe a Club Penguin VR game? That would surely be a sight to see.
In room two we went to the cove, arguably the worst room to enter because of the exits, a campfire on one side and the surfing game on the other. Upon joining this room, we were expected to be bombarded by the Brotherhood Imperium, an army that has declared war on us and DV. Zay, the leader of this army, said their army would open its doors on November 8th, 2022 (today) and "vow to slash through the community's biggest wrongdoers, specifically ones that have an abhorrent history of derogatory actions.". Unfortunately, however, BI never showed during our time online. Was zays army just a hoax? Why didn't they show? We will soon find this conclusion.
A special shoutout to all who came today:
𝖆𝖎𝖘𝖍𝖆. | BATTLE WEEK
Trighy
PenTheFish
Sad.
Clade
MisterKid
SWAT Agent LEGOMAN
TheGuyWhoAsked
oli
𝓻𝔂𝓮 ✧ BATTLE WEEK
G90
jes.mess44
𝓛𝓸𝓰𝓲𝓬𝓪𝓵 ヅ | BATTLE WEEK
♠ cσσℓgυу ♠
Diamond_what123
Sauron
𝕭𝖚𝖑𝖑 | BATTLE WEEK
WilliamW210 | Vodka | Green4Life
Ronnayy121
Other than that, great event, we had a few people AFK but that only means we need more people to fill those gaps. LETS GET READY FOR OUR BATTLES AGAINST WATER VIKINGS WEDNESDAY, FRIDAY AND SATURDAY, AND ARMY OF CLUB PENGUIN ON SATURDAY!
rye ✧ 𝕾𝖚𝖕𝖗𝖊𝖒𝖊 𝕮𝖔𝖒𝖒𝖆𝖓𝖉𝖊𝖗
Filed under: Event Posts Tagged: | 2022, special weapons and tactics, SWAT, training