loading… [24%] loading… [89%] loading… [100% mission loaded]
✪】Incoming transmission from [LEGOMAN]
Today was an absolutely stellar day for the UK Division of the Special Weapons And Tactics Army of Club Penguin. Today, January 14, 2023, at 4:00 PM EST we logged in to celebrate Oli219's retirement and to have a battle with our enemies the goofy Templars. Awesome job being awake and attentive throughout the whole event! BUT our proudest moment of this event was accomplishing our most important mission – having fun! Thank you to all the loyal SWAT Agents that attended this incredible event! REMINDER – We have a MASSIVE Retirement of Logical Mines Sunday, 3:00 PM EST. Make sure to attend to help us rise even further, and give Logical a great sendoff!
Max: 24
Room One: Dojo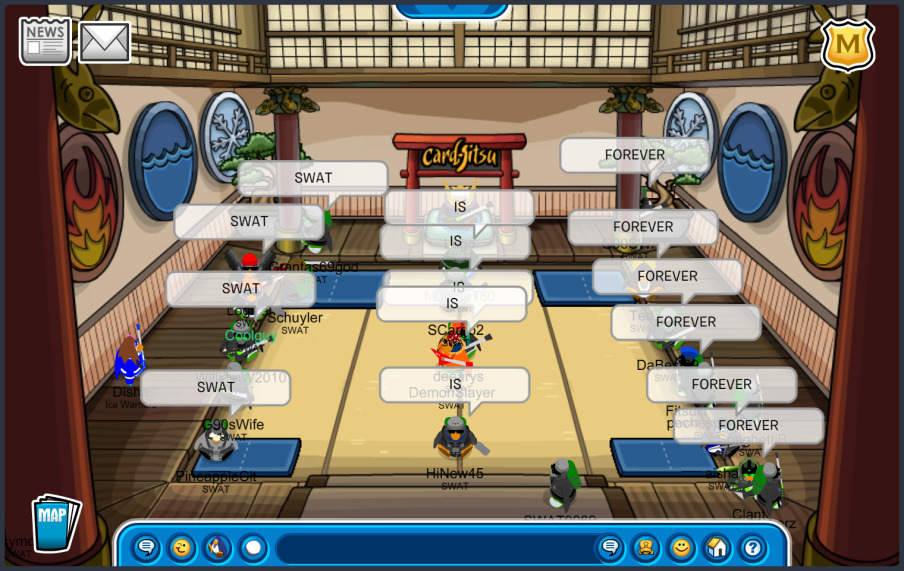 Room Two: Docks
Fantastic sendoff to Oli219 SWAT! Special shoutout to WaffleGuy, Coolguy, Boba Fart, Logical, LEGOMAN, Aisha, PineappleCIT, Clant, PineappleCIT and DemonSlayer for taking event pictures! Let's continue this MOMENTUM. We have some great things fast approaching and we will be seeing a New Era of SWAT. Until next time. #FIGHT4SWAT
✪】 End Transmission.
LEGOMAN.
SWAT Commander-in-Chief
Filed under: Event Posts | Tagged: Club Penguin SWAT, CP SWAT, EPF Agent Rulers CPR, EPF Agent Rulers of CPR, epfagentrulers, EPFagentrulersteam, EPFagentsCPR, EPFRulersTeam, Event post, SWAT Army CP, SWAT ARMY CPO, SWAT Army of Club Penguin, swat army of cp, SWAT Army of CPO, swat of club penguin, swat of club penguin online, SWAT of CP, swat of cpo, SWAT Rulers, swat rulers army, swat rulers club penguin, swat rulers club penguin island, swat rulers club penguin online codes, swat rulers of cp, swatofcp, SWATrulers | Leave a comment »