loading… [24%] loading… [89%] loading… [100% mission loaded]
✪】Incoming transmission from [LEGOMAN]
Today was an absolutely stellar day for the UK Division of the Special Weapons And Tactics Army of Club Penguin. Today, December 2, 2022 at 4:00 PM EST we logged in to further continue our vivacious expeditions and expand our vast array of formations. Since our previous event we managed to add an extra ten troops to our attendance roster. Most of all we were able to accomplish our greatest mission – having fun! Thank you to all the loyal SWAT Agents that attended this incredible event! REMINDER – We have a MASSIVE Return Event for our Creator Ganger90 Saturday, 3PM EST. Make sure to attend to help us rise even further!
Max: 26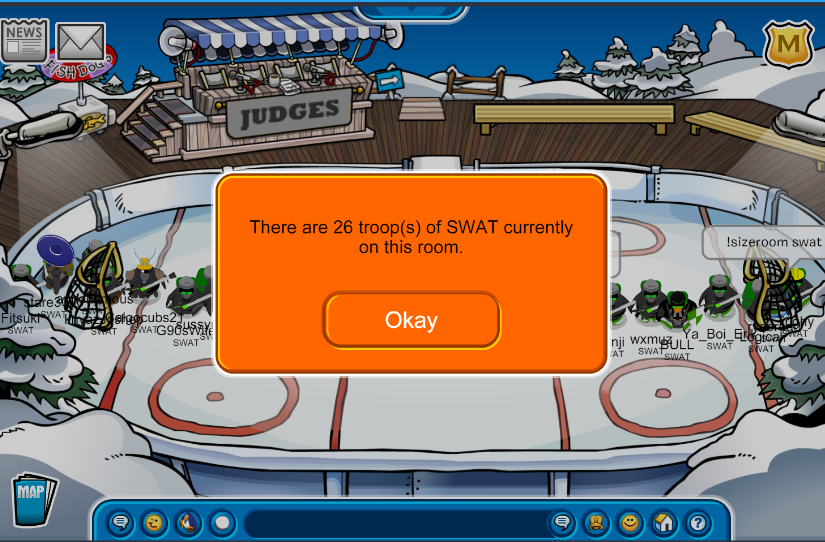 Read more
Room One: Stadium
Room Two: Snow Forts
Room Three: Forest
Amazing event SWAT. I am extremely proud of our growth. Shoutout to Clade, Logical, abuporu, iosephus, Coolguy and Rye Bread for taking event pictures and special shoutout to Coolguy for founding the key form. Let's continue this upward trend and secure our first major tournament victory by beating the Rebel Penguin Federation and winning the first round of Christmas Chaos XII. #SWATWINCCXII
✪】 End Transmission.
LEGOMAN.
SWAT Commander-in-Chief
Filed under: Event Posts Tagged: | AGENT RULERS CPR, Agent Rulers CPRewritten, AgentRulers CPR, AgentRulers CPRewritten, AgentRulers of CPR, AgentRulersCPR, agentsofcpr, Army of Club Penguin, Army Warfare, avengers, Avengers Army, Avengers Club Penguin, bleed black, Club Penguin, club penguin army, Club Penguin Membership Codes, club penguin online, Club Penguin SWAT, Club Penguin SWAT Army, clubpenguin army, clubpenguinarmy, CP Avengers, CP SWAT, CPR EpfAgents, CprAgentRulers, cpragentsteam, CprAgentsTeam SWATRulersofCPR TeamSWATRulers RulersCprTeam RulersTeamCPR Rulers of Club Penguin Rulers of Club Penguin CPRAgents Team CPRAgentsTeam Team SW AT Rulers TeamSWAT Rulers EPFagentrulers tea, cprewritten army, Cprewritten Army Team, CpRewritten EPFAgents, CPRewritten Rulers, CPRewritten Rulers Army, Cprewrittenarmy, cprpenguinrulers, EPF Agent Rulers CPR, EPF Agent Rulers of CPR, Epf Agent Team Rulers, Epf Ruler Agents Team, Epf Rulers Cp Rewritten, EPFAgent Rulers, EPFAgent Rulers Team, epfagentrulers, EPFagentrulersteam, EPFAgents TeamRulers, EPFagentsCPR, EPFPenguinRulers, EPFRulers CPRewritten, EPFRulers Team, EPFRulers TeamSWAT, EPFRulersTeam, fun, psa, Rulers EPFAgents, SWAT Army, SWAT Army CP, SWAT ARMY CPO, SWAT Army of Club Penguin, swat army of cp, SWAT Army of CPO, swat of club penguin, swat of club penguin online, SWAT of CP, swat of cpo, SWAT Rulers, swat rulers army, swat rulers army cp, swat rulers army cpr, swat rulers club penguin, swat rulers club penguin island, swat rulers club penguin island shut down, swat rulers club penguin online, swat rulers club penguin online codes, swat rulers club penguin rewritten, swat rulers club penguin rewritten codes, swat rulers club penguins, swat rulers of cp, swatcpteam agentsofcpr cpragentsteam clubpenguinagents, swatofcp, SWATrulers